Process
Insurance Verification & Eligibility System™ Process
The web-based IVES™ system can be viewed in simplistic terms in the image below. Verification results can be obtained on IVES™ website or send to client practice management systems via interfaces. Infrahealth® has developed interfaces with most practice management systems that exist.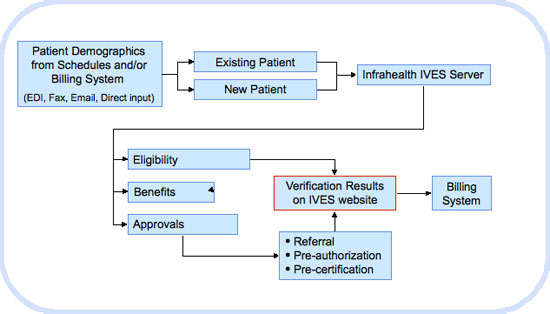 Your Facility's Success Factors
Increased Efficiency.
Reduce Expenses.
Improved Profitability.
Criteria Based Reports customized to your requirements.
Infrahealth Information
Technical Support Available 24/7.
Qualified Software Developers.
Professional and Personable Customer Service Staff.
Trained Technicians and Trainers.
Nationwide Client Base.
Excellent References.
"No insurance eligibility verification? How much is this costing your practice?"